---
Customized virtual keynotes, workshops,
and e-learning resources to help your
organization grow through change.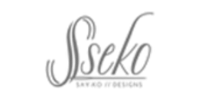 Refreshingly Practical, Engaging & Impactful
Culture
usually stands in the way of change adoption.
And what makes up culture?
Your
people.
What determines how your people are experiencing their work every day
Their
beliefs & emotions.
So, how do you harness emotions and create buy-in for change?
You give your organization a new model to
thrive in change.
That's
where
Cassandra
comes in…
Cassandra transformed how I look at change…
Early on in my career, when my company was in the aftermath of a $5B acquisition, I almost quit. Fueled by frustration and stress, I found myself on the precipice of walking out of the office and never coming back. Had I done so, I would have become another statistic. Yet another African-American female departed from a STEM-driven industry. Top talent voluntarily resigning during a time of significant organizational shift. Another change victim.
But I didn't.
Instead, I woke up one day and decided to view those feelings as a signal that I was sitting in a moment of opportunity. 
An opportunity to transform that chemistry, that feeling into something better. To choose every day to do something, say something, behave in some way that would move the needle of my work experience towards a better feeling. I didn't know it at the time, but I was cultivating a teachable strategy to inspire anyone to become enthusiastic about change, to find their unique power of resilience during turbulent times.
Today, I help organizations disrupt 'change as usual'. Through a practical and repeatable framework, I show them how they can transform their culture from surviving change to growing through change.

Which Option Will Drive The
Best Result For Your Organization?
Keynotes
15 years of real-world M&A experience distilled into a gameplan to thrive (not just survive) change. Available in live-stream or customized pre-recorded formats.
Leadership Workshops
Virtual workshops that give your organization a lasting mindset, resources, and resilience for profitable growth through change.
Resilience Training
eLearning to embed Change Enthusiasm® in your organizational DNA, nurturing resident Change Enthusiasts to ensure lasting resilience and results.
Frequently Asked
Questions
How does Cassandra create and sustain engagement through her virtual solutions?
Cassandra's high-energy and high-impact content is the antidote to 'Zoom fatigue'! Some of the most-commonly used engagement tools include 'live polling' during livestream engagements, and a variety of other interactive tools and platforms in partnership with a session moderator.
What/who is a session moderator and do I need one?
A session moderator monitors the Q&A and chat boxes during a keynote presenter's session. The moderator may also engage in high-energy banter with Cassandra to keep sessions interactive and dynamic. A moderator is a valuable and recommended resource in creating an immersive experience.
What if I'm using Bizzabo, BigMarker, or some other more advanced virtual platform for my event?
Cassandra has done dozens of virtual presentations and is well-versed in the latest and most advanced streaming platforms.
What is the ideal size of a virtual leadership workshop?
In order to keep breakout rooms and discussions rich and impactful and meaningful, it is recommended to keep the total group size below 40 participants.
Can I invest in ONLY a customized eLearning package?
Though it is recommended to pair eLearning with one or more of our other virtual offerings, our team will work with you to customize a virtual solution that fits your specific needs.
Can I record Cassandra's presentation?
We will dive deeper into recording needs, distribution rights and options as we customize your virtual experience.
Do you offer any 'takeaway' content for virtual participants?
Absolutely, and we customize them for you! We will dive deeper into takeaway content and customizable options during our discovery process.
On-Demand Learning To Grow Through Change.
Cassandra helps organizations disrupt change as usual. In this three-part series, she distills 15+ years of corporate M&A experience into a proven repeatable and trainable framework of growing through change.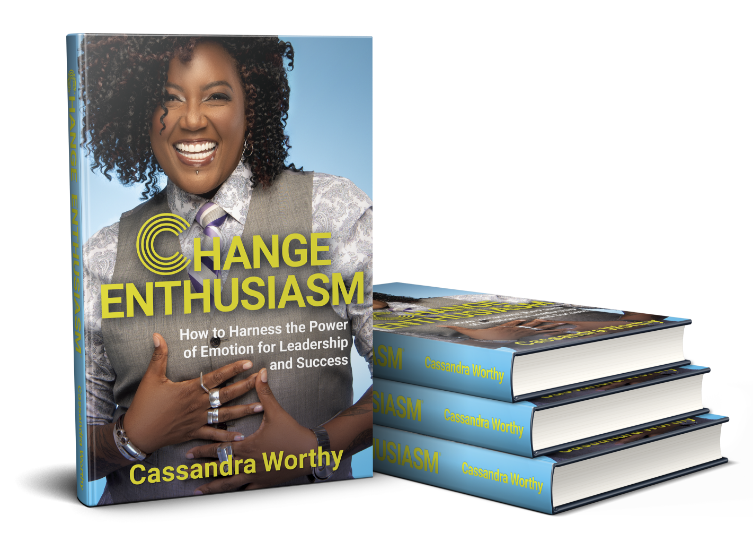 Dynamic corporate speaker and consultant, Cassandra Worthy, introduces a growth mindset practice that helps readers to view change and the emotions surrounding it as a gift.
Only 10 percent of successful change adoption is about know-how . . . the other 90 percent is squarely centered on the motivation and willingness to embrace the change. In this book, Cassandra Worthy shows that if the emotions standing in the way of motivation aren't addressed, any transformation journey is stopped in its tracks. Cassandra shares her unique strategy of Change Enthusiasm, which helps individuals to harness the power of emotion–a resource in infinite supply–to embrace and accelerate change and transformation journeys. Her practical yet inspiring strategies will inspire anyone to become enthusiastic about change and find their unique power of resilience during turbulent times.