Transform Fear Ofchangeto Fuel for Growth
We've heard it time after time: Culture change is slow. But why? Why is culture change so slow?? Understanding this is o…
read more
"What. If." TEDx talk
Change is gonna come. Ain't that the truth? Watch Cassandra as she taps into the power of a simple question – "What If?" – and examines the physiological and psychological reasons why we so often resist change, and shows us how we can adjust our mindset to enthusiastically embrace change.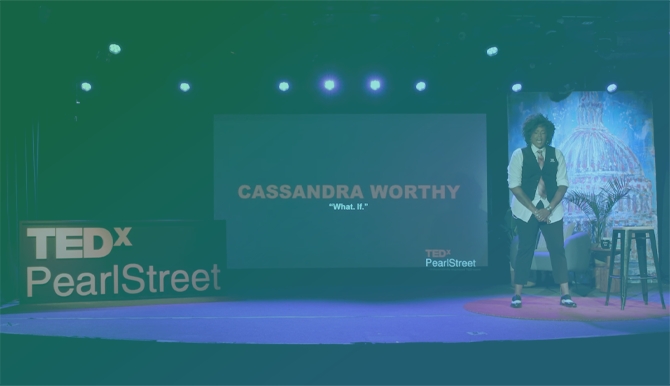 Be Inspired By the Change Enthusiasm® Anthem
Cassandra Worthy, Founder and CEO of Change Enthusiasm® Global, shares her full energy from the rooftops, delivering Change Enthusiasts all over the world with an anthem to unite them in this movement!utcomes. Watch this video to understand what it means to be a Change Enthusiast and how you can join the movement!
Bring Unparalleled Energy to Your Next Event
In this client spotlight, Cassandra shares how she thrives on injecting energy and excitement into her client's events all over the world.
Fueling Impassioned and Inspired Leaders
In this client spotlight, Cassandra shares her passion to fuel impassioned and inspired leaders undergoing significant transformation.

'In The Press' and Podcasts
How to Harness the Power of Emotion for Leadership and Success
In her much-awaited debut, Cassandra engages and educates readers on the powerfully unique growth mindset of Change Enthusiasm®. Readers will gain the language, mindset, and tools to grow through change as they travel not only through this deeply personal journey of Cassandra's experiences but also of her clients and colleagues including 5X Olympian Chaunte Lowe, entrepreneur and co-founder of HelloAlice Elizabeth Gore, and many Fortune 100 CEOs.
On-Demand Learning To Grow Through Change.
Cassandra helps organizations disrupt change as usual. In this three-part series, she distills 15+ years of corporate M&A experience into a proven repeatable and trainable framework of growing through change.
Disrupt 'Change as Usual'
Transform Your Culture from Surviving Change to Growing Through Change
STEP 1 Recognize Your Change Signals
During change, your people are inundated with high-priority messages from leaders. These messages may be conflicting, and require compliance without clarity. As a result, your people experience fear, anger, anxiety, and grief. Recognizing these emotions as 'change signals' is the first step.
STEP 2 See Change As An Opportunity
Change creates an infinite supply of emotions. The Change Enthusiast language, mindset, and tools empower your people to 'develop a conscious mindset of opportunity'. They are now able to transform their change-stalling emotions into change-accelerating behaviors.
STEP 3 Choose Your Better
Change is constant. When people intentionally shift how they feel, see and act during change events, they 'uncover a unique signature of resilience' during turbulent times. As a result, they are able to transform the tension of change into growth opportunities for themselves and their organization.
Repeat ( …because, change happens)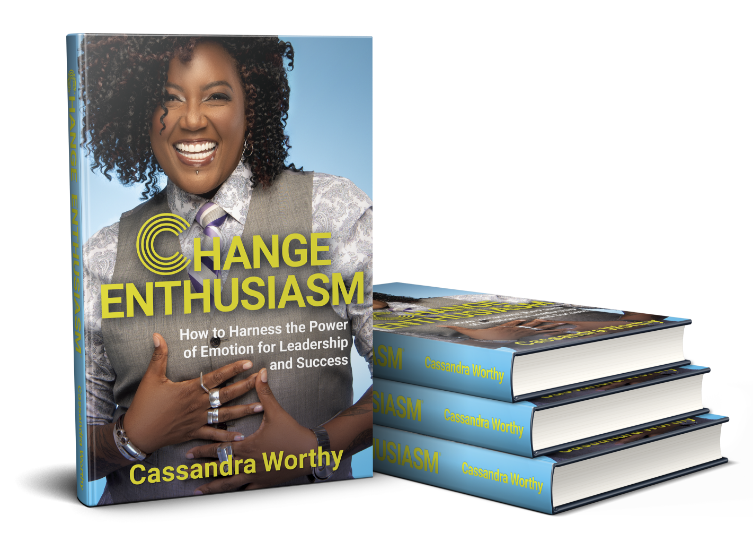 Dynamic corporate speaker and consultant, Cassandra Worthy, introduces a growth mindset practice that helps readers to view change and the emotions surrounding it as a gift.
Only 10 percent of successful change adoption is about know-how . . . the other 90 percent is squarely centered on the motivation and willingness to embrace the change. In this book, Cassandra Worthy shows that if the emotions standing in the way of motivation aren't addressed, any transformation journey is stopped in its tracks. Cassandra shares her unique strategy of Change Enthusiasm, which helps individuals to harness the power of emotion–a resource in infinite supply–to embrace and accelerate change and transformation journeys. Her practical yet inspiring strategies will inspire anyone to become enthusiastic about change and find their unique power of resilience during turbulent times.